Three cheers for doubling revenue!

Vidzing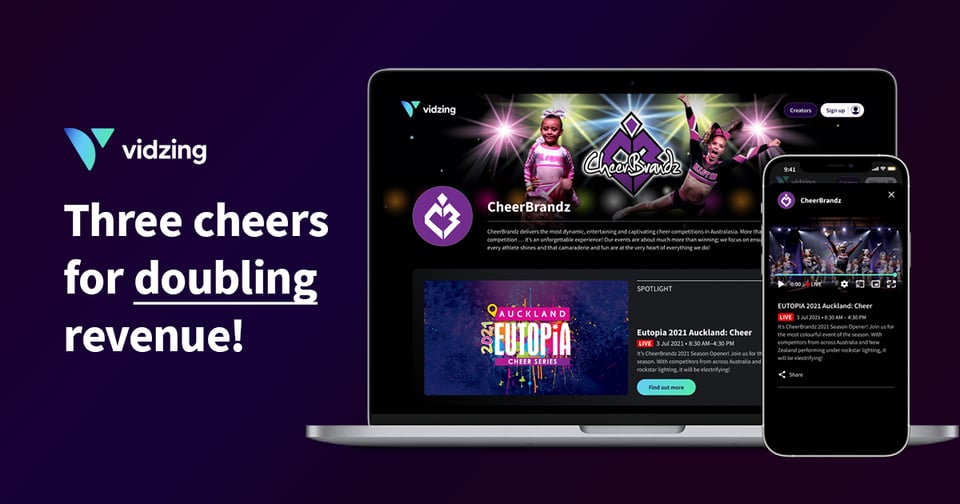 CheerBrandz runs cheerleading and dance competitions on home soil, across the ditch and in Hawaii. With COVID putting a halt to ticketing and travel, it looked like the entire business was about to fall flat on its face. But they teamed up with us midair for a spectacular manoeuvre that wowed viewers and surprised the business, too.
The move was to keep their heads up, go online and figure it out as we went. Cheer teams are good like that. They're always so… enthusiastic! And so are we.
It paid off, literally.
Four simultaneous events in different locations were broadcast, tickets were sold to spectators wherever they were, judges could watch remotely in real time and no one had to incur the cost of travel.
Challenges thrill us! On our side, we got to choreograph technical solutions for this use case as the need arose. It was an incredible volume of content, events were timed to the minute and every second had to be seen in real time without a lag or dropping signal. The result? 10/10 for originality, teamwork and technical precision!
Everything ran smoothly and new revenue streams opened up for CheerBrandz that continue to this day. Tickets can be sold across borders, more teams can compete from anywhere and content can be viewed again on demand or by subscription.
Revenue's doubled, even after COVID. That's a nice little flourish.
Go team!
Find out more about going virtual with Vidzing here.