The show must go online!

Vidzing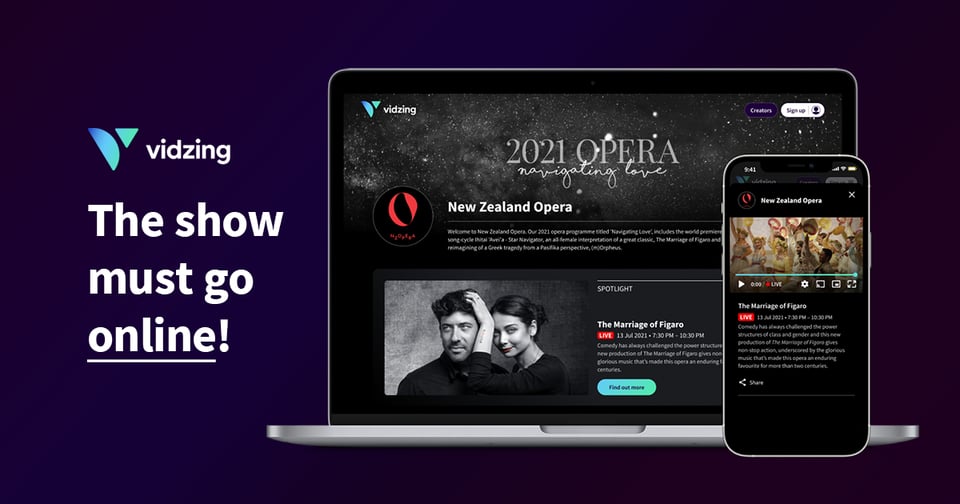 What happens when COVID closes the doors on a much anticipated performance in the nation's capital? New Zealand Opera saw opportunity knocking instead and opened their craft to the whole world online.
The result was an unprecedented live stream of their performance in Christchurch to thousands of homes around the world (with people from more that 26 countries watching). With the help of a local production company and our tech-loving startup, it was an experience seasoned patrons and new viewers alike could access and love, while keeping the public, performers and crew safe.
We know, you must have some questions.
What about sound quality & production?
Flawless performance and production standards had to come alive online and keep loyal and new patrons alike sitting on the edge of their sofas, so we partnered NZ Opera with esteemed production company Belmont to bring the theatre to homes around New Zealand and the world take care of those details and test until it was perfect. More than one seasoned reviewer commented that it was a better and more intimate experience than attending live.
How did the audience do?
When patrons were surveyed, they said it was a breeze to get registered, streaming and even casting to the big screen. For the few who needed a little extra help, Vidzing execs personally got on the phone and taught them how to stream. Going online meant the production could reach not just Wellington ticket holders who had missed out on the live performance, but also fans around the world too. Both the sound and visual quality was high, meaning the opera didn't miss a beat. Bravo!
Weren't you still in Beta?
Yes! Being a zesty Kiwi start-up means we can move quickly and act with a lot of care. We made product changes on the fly as New Zealand Opera needed, picked up customer calls ourselves and sent the big bosses down to the live venue to supervise the stream at showtime. Now, we're not naming any recently-changed names here, but we think our customer service and support is hard to beat streaming anywhere else.


---

Creator: New Zealand Opera
Challenge: Coronavirus
Outcome: Reached bigger audience after getting cancelled
Produced: A hybrid (in-person & virtual) theatre experience with a 30 minute DVR window for late-comers
Best moment: Gratitude from Opera viewers viewing from home e.g. "This opera is incredible!...I'm so impressed and loved it!! What a night and I wished I could cheer and clap loudly for their talents and hard work!"


---